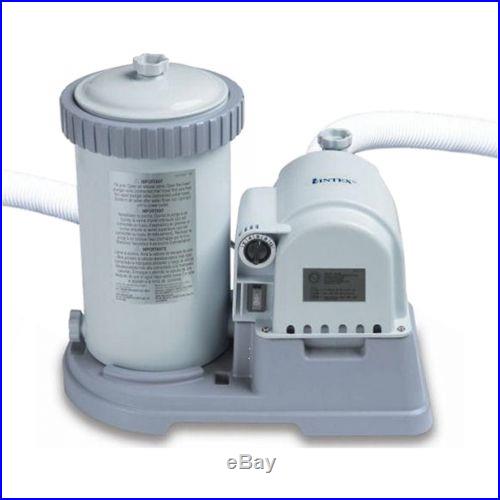 Intex 2500 gph above ground swimming pool pump & filter. Order with confidence – 7th avenue store is an authorized intex dealer. Intex 2,500 gph pool filter pump. See below for more details. Stand-alone water filtration pump easily works with most above ground pool systems. Filters 2,500 gallons (9,462 l) of water per hour.
Works with all 10′, 12′, 15′, 16′, 18′, 24′, 28′, 32′ and 40′ intex brand pools. Including easy set pools, frame set pools, ultra frame pools, oval pools and ellipse pools as well as aqua leisure simple-set pools and walmart sand-n-sun brand pools with 1.50 inside diameter hose connections. 10′, 12′, 15′ and 16′ intex pools will require 2 hose adapters which are. Fits many other above ground pools.
With the addition of the proper size hose fittings (very inexpensive) as found at any good hardware store. In less than 5 minutes! Allows you to set a daily 2, 4, 6, 8 or 12 hour cleaning cycle!
Includes hoses, plunger valves, filter cartridge and fittings! This pump design has been tested, listed and certified by the ul underwriters. And, it's double insulated for safety and a longer service life. Pump features an air release valve for air trapped inside the filter chamber and a sediment flush valve at the bottom of the filter chamber for easier maintenance.
This pump uses intex filter cartridge type "b" (product #59905e). One filter cartridge is included with this pump. The water filtration pump in this listing comes with one filter cartridge but you will definitely need more. During heavy usage months you will need about 6 filters each month. Tips to save on filters and save your filter pump. We sell pool filter cartridges by the case in our. A pool cover will reduce the amount of debris that falls into the pool when it is not in use.
Your pools water will stay cleaner plus your filter and pump will both last a lot longer if they work less. We sell pool covers in our. A filter pump removes debris which is suspended in your pool's water. No filter pump will clean the debris on your pool's floor and walls. That's why both in-ground and above ground pool owners use a vacuum or an automatic pool cleaner.
Vacuuming your pool is part of standard pool maintenance and this will help your pool pump and filter work less and last longer. Yes, we sell pool vacuums and automatic pool cleaners. We sell pool vacuums and automatic cleaners in our. Get a small tub or bucket large enough to stand in, place it near your pool entry and fill it with water. Rinsing the debris from your feet and ankles keeps a lot of debris out of your pool and that means less cleaning will be required.
After each use check your filter, clean it with a garden hose as needed and let it dry out of the sun. Also, do not leave water in your filter pump when your pump is not running. Close off your pool's plunger valves and empty the water from your pump. Standing water in your pump will cause mold and mildew, and this can damage your filter and pump. Chlorinate your pool this is important! Maintaining chlorine in your pool is an absolute must. You need to prevent algae growth and destroy harmful bacteria that can cause illness. Unsanitary algae and bacterial growth will cause premature deterioration of your filter cartridge as well as your pool, pump and other pool accessories. Saltwater chlorinators are superior to packaged pool chlorine. A saltwater chlorinator converts salt into active liquid chlorine (also known as hypochlorite) which works better than conventional chlorine since it uses a lower concentration to sanitize your pool's water. A small quantity of salt is added to your pool water, so small that you will not be able to taste it. The chlorine generator converts salt into active liquid chlorine (hypochlorite). As the hypochlorite destroys algae and other water contaminants, it bonds with water molecules to form sodium chloride (salt). Thus, the salt in your pool is recycled and stays in your pool.
You can find out more about our saltwater chlorination systems by checking the listings in our. Using packaged pool chlorine to keep your water sanitary will shorten the life of your above ground pool. Packaged pool chlorine is the same agent found in bleach; that's why your swimsuit becomes faded so quickly and the same damage is happening to your pool.
Intex's saltwater chlorination system solves this problem by chlorinating your above ground pool naturally using a very small amount of common table salt. To find out more about intex's saltwater chlorination systems please visit our.
Major holidays include new year's day (or the day after if new year's day falls on a sunday), memorial day, independence day, labor day, thanksgiving day and christmas day. Tracking your order from 7th avenue store is quick and easy.
Your return item(s) must arrive at our designated return address within 30 days from the date you placed the order. Returned items must be new, unused, and unopened with all original packaging and packing materials intact. Every return must include a completed return authorization form (raf). We will send the raf with your return's ra#. Our goal is to satisfy you, our customer.
Please leave us positive feedback. If we make a mistake we want to fix it and we hope you will give us the opportunity to do so. The vast majority of orders will be worry free, but should a problem arise we ask that you please help us by communicating the problem to us and then leave us positive feedback after we have resolved the issue. Thank you so much for shopping with us!
The item "Intex 2500 gph Above Ground Swimming Pool Pump & Filter" is in sale since Thursday, March 04, 2010. This item is in the category "Home & Garden\Yard, Garden & Outdoor Living\Pools & Spas\Pool Parts & Maintenance\Pool Pumps".
The seller is "7thavenuestore" and is located in Las Vegas, Nevada. This item can only be shipped to United States.